10 pcs Large Garden Fruit Net (29x43cm) Nylon Fruit Mesh (bag) for Pest Control (Insects, fruit flies, caterpillars, birds, squirrels, rats, monkeys, cats) Jaring Membalut Buah Kebun Mencegah Lalat Buah dan Serangga Perosak
Price

RM10.90 - RM16.50

Product SKU
SHS-PC-FN2943-10PCS
Brand
SHS Kebun
Availability
56

Size

Quantity
Description
Highlight
Size 29 cm x 43 cm (approximate)
Set of 10 pcs
Suitable for medium to moderately large size fruits/vege(papaya, watermelon, pomelo, bitter guard, brinjal, eggplants, mango etc.and fruits in bunches like grapes, vietnamese apple (bidara), longan etc
Durable, Washable & Reusable Garden Netting
Fruits can breathe easily
Comes with a drawstring to tie the net/bag easily.
Jaring pembungkus buah besar
Other small to extra large sizes available too
Sent from Kulim, Kedah
SHS Kebun/SHS Garden is the registered tradename of Grand SHS Resources (M) Sdn. Bhd. Beware of fake listings using our tradename
FRUIT NET 29x43CM 40 Mesh
OR 29x43CM 60 Mesh
As a passionate gardener, isn't it frustrating sometimes when your fruits are damaged by pests such as insects and fruit flies or stolen and eaten by squirrels, birds, monkey shrews, and rats?
Protect your fruits from pest - mealy bugs and all sorts of insects, fruit flies, beetles, birds, monkeys, squirrels, and rats with our fruit net so that you get to enjoy the fruits of your labor.
Wrapping them with newspaper is not only taking time, but it may also create fungus problems. Now you can have peace of mind knowing that your fruits are protected using our fruit net (bag). It comes with a drawstring making it very easy and convenient to wrap your fruits.
FEATURES
Durable, washable, and reusable many times
Fruits can breathe easily
Comes with a drawstring to tie the net/bag easily
Sizes : 29 x 43cm
SPECIFICATIONS
Material: Durable nylon (can withstand UV and last for a few years)
Colour: White
Drawstring colour: Random
Mesh Size: 40 and 60 (the higher the mesh size, the higher the density which means the smaller the holes)
Suitable for medium to moderately large size fruits/vege (papaya, watermelon, pomelo, bitter guard, brinjal, eggplants, mango etc. and fruits in bunches like grapes, Vietnamese apple (bidara), longan etc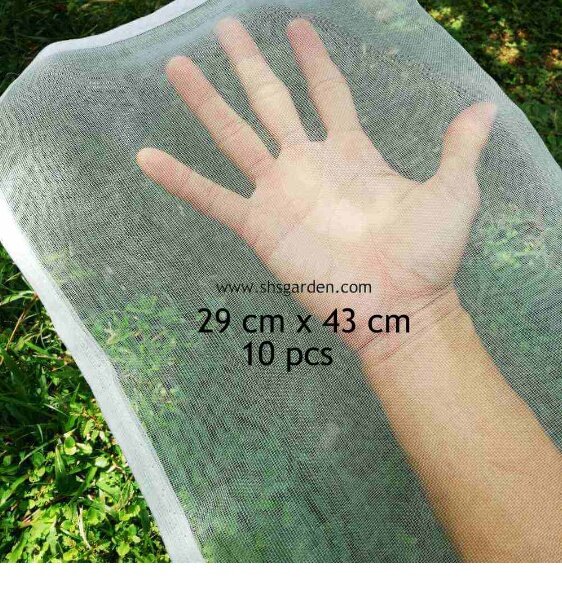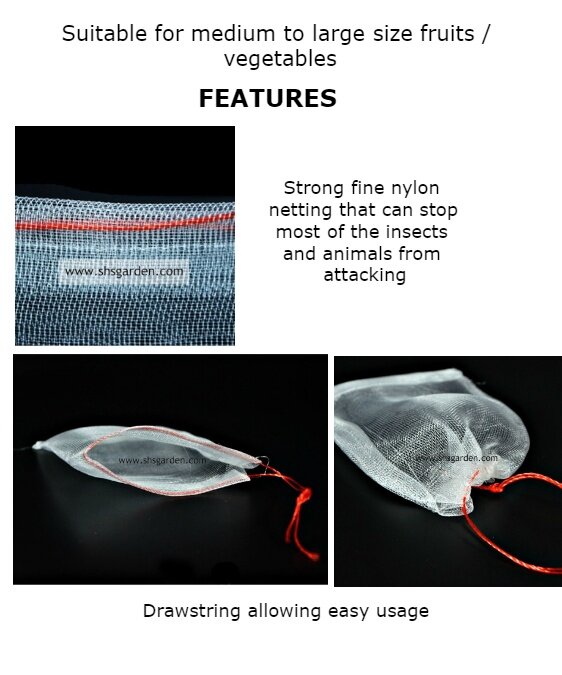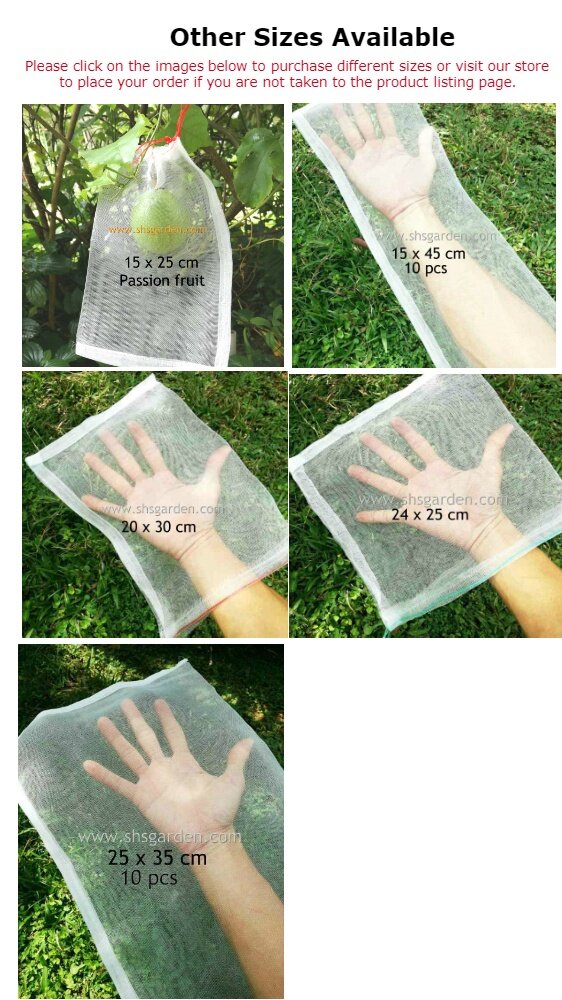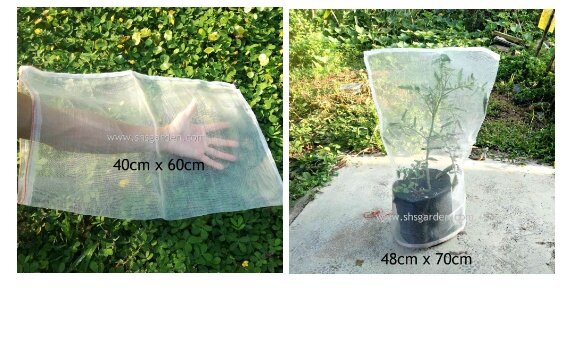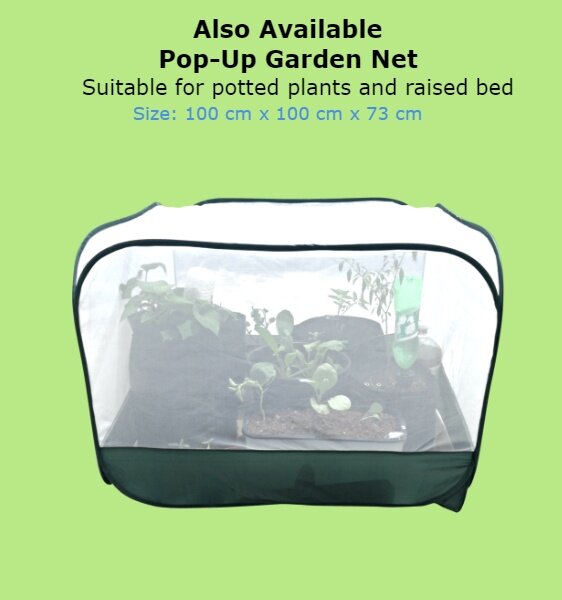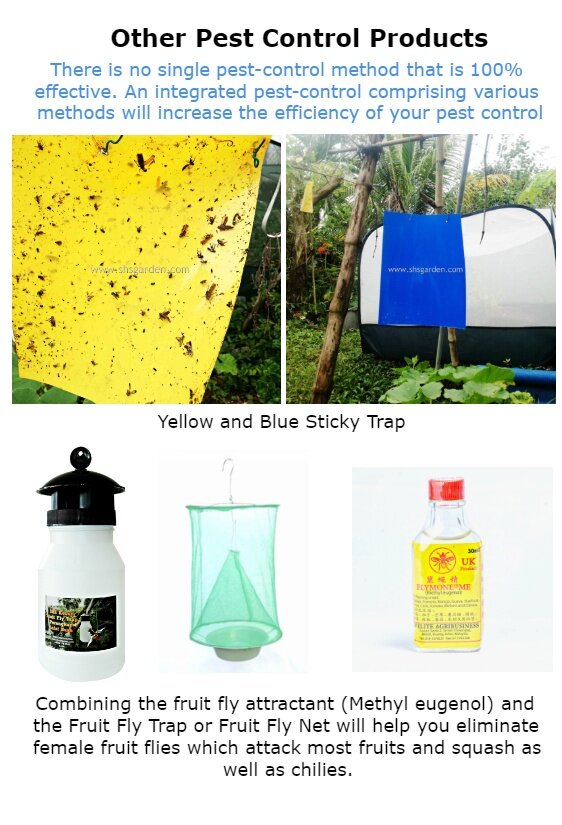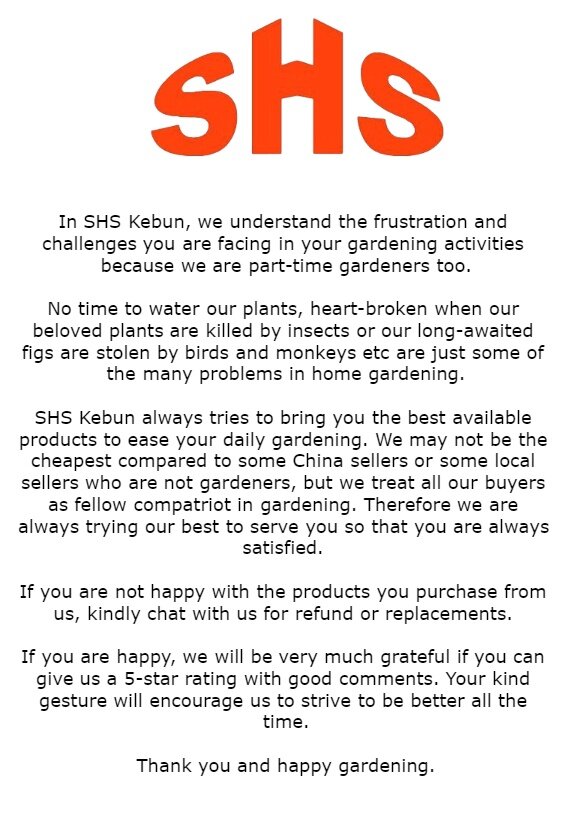 PACKAGE CONTENT
10pcs of 29x43cm Nylon Garden Fruit Net
<Please choose the variation of Mesh as shown>
SHIPPING
Ready-stock and shipped from Kulim, Kedah
WARNING
SHS KEBUN/SHS Garden is the registered trademark of Grand SHS Resources (M) Sdn. Bhd. Beware of any fake listings using our trade name.
What's in the box
10pcs of 29x43cm Nylon Garden Fruit Net
<Please choose the variation of Mesh as shown>